Poster Session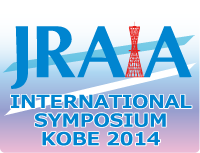 The International Symposium on New Refrigerants and Environmental Technology 2014
- Latest Technology of Energy Conservation, New Refrigerants and Environment issue on Air conditioning and Refrigeration Equipment including Automotive A/C for lead up to the 21st Century -
Thank you indeed for coming to "The International Symposium on New Refrigerants and Environmental Technology 2014".
It ended in success.
Nov.20.2014 (Thu) - Nov.21.2014 (Fri)
ASADA CORPORATION
Reclamation of mild flammability and blend refrigerant in high purify and maintain refrigerant quality
New Energy and Industrial Technology Development Organization (NEDO)
Ongoing NEDO Projects(Technology Development of High-efficiency Non-fluorinated Air-conditioning Systems)
Japan Air Conditioning and Refrigeration Testing Laboratory(JATL)
The approaches to higher accuracy of air conditioner tests in JATL
Mitsubishi Heavy Industries, Ltd.
Ene-Conductor; Heat source control system
DENGEN Co., Ltd.
Solution of HFO-1234yf A/C tools for automotive
Mitsubishi Heavy Industries, Ltd.
Electric Transport Refrigeration Unit using Heat pump system
Pro-Step Co.,ltd
Remotely controlled test system of air tightness using refined Nitrogen
Chukyo Fron Co.,Ltd./Pro-Step Co.,Ltd
(TBA)
Saga University
Thermal conductivities of HFO refrigerants at superheated vapor condition
JRECO
Electronic refrigerants management method and Freon law amendment
TASCO JAPAN Co., LTD.
HFO1234yf service tool
Kobe University / Noritz Corp.
Performance Characteristics of Plate-type Condenser for Heat Pump Water Heater
Tokyo University of Marine Science and Technology
Heat Transfer Characteristics of Azeotropic Refrigerant Mixtures R32+R1270 Inside Horizontal Small-Diameter Tubes
Kyushu Sangyo University
Thermodynamic Properties of R-245fa, R-1234ze(E), and R-1234ze(Z)
Mayekawa Mfg. Co. Ltd
Development of a hot water circulation heat pump using low GWP refrigerants
HIGASHIO MECH CO.,LTD COCOMECH
Fire Free Mechanical Joint, For VRF system
JRAIA
History of Kobe Symposium(TBA)