Registration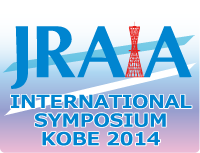 The International Symposium on New Refrigerants and Environmental Technology 2014
- Latest Technology of Energy Conservation, New Refrigerants and Environment issue on Air conditioning and Refrigeration Equipment including Automotive A/C for lead up to the 21st Century -
Thank you indeed for coming to "The International Symposium on New Refrigerants and Environmental Technology 2014".
It ended in success.
Regustration
Registration & hotel accommodation
Application for registration and hotel accommodation has closed.
Those wishing to attend the Symposium are requested to register on-site.
The Registration Secretariat
All inquiries related to this Symposium should be directed to:
JRAIA Symposium Registration Secretariat
c/o Kinki Nippon Tourist Co., Ltd.
Global Business Management Branch
Sumitomo-shoji Kanda-Izumi-Cho Bldg.,12F,
1-13 Kanda-Izumi-cho, Chiyoda-ku, Tokyo 101-0024, JAPAN
Tel: +81-3-6891-9600
E-mail:
* For advance registration, please send the"Registration and Hotel Application Form" to the secretariat and complete payment by October 31.
Registration Fee
| | |
| --- | --- |
| Early Bird Registration before Sep. 30, 2014 | ¥30,000 |
| After Oct. 1, 2014 or On-Site Registration | ¥40,000 |
| Welcome Reception | ¥10,000 |
Accommodation
* Rooms have been reserved at following hotels in Kobe.
* Deadline for hotel reservation: October 31
* Hotel reservations are processed on a first-come-first-served basis.
* Kobe Portopia Hotel, adjacent to the conference center is the main hotel for this Symposium.
Hotel Accommodation
Name of Hotel
Single
(for one person)
Deposit
(Single)
Twin
(for two persons)
Deposit
(Twin)
1) Kobe Portopia Hotel
¥14,580
¥14,580
¥21,600
¥21,600
2) Hotel Pearl City Kobe
¥11,340
¥11,340
¥16,200
¥16,200
3) Quality Hotel Kobe
¥10,500
¥10,500
¥17,000
¥17,000
4) Kobe Tokyu Inn
¥11,340
¥11,340
¥19,440
¥19,440
5) Sannomiya Treminal Hotel
¥8,100
¥8,100
¥15,120
¥15,120
* Service charge, tax and breakfast are included.
* If all available rooms of your desired hotel are fully booked, you will be assigned to another hotel.
* One night room charge is required as deposit. (Please pay the rest of the accommodation fee at the hotel)
* "Single" for Quality Hotel Kobe is single occupancy of a twin room.
Payment
Please refer to Registration and Hotel Application Form.
Confirmation
A confirmation e-mail will be sent after October 31 to the applicants who have completed the payment.
No reservation will be confirmed in absence of payment.
Change or Cancellation
Any change or cancellation notice must be made in writing to Registration Secretariat to prevent troubles.
Registration
On or after October 1 or no notice giventice
Hotel
| | |
| --- | --- |
| Up to 14 days prior to check-in date | No charge |
| 13-7 days prior to check-in date | 10% of the first night's room charge |
| 6-3 days prior to check-in date | 40% of the first night's room charge |
| Less than 3 days, or no notice given | 100% of daily room charge |
Refunds
Refunds will be made after deducting bank and/or credit card service charges and the above cancellation penalties either during or after the Symposium. If payment was made by credit card, reimbursement will be made through the credit card company.
General Information
Climate and Clothing
The symposium will be held under the pleasant early winter weather, the temperatures ranging between a daytime high of 14°C (57°F) and a low of 8°C (46°F). Dress for all events will be informal.
Passports and Visas
Participants are requested to ensure possession of all essential travel documents. For details, please contact a local travel agent or the carrier for your own security.
Exchange
Foreign currency may be exchanged at banks at airport and around the symposium site. Most hotels are able to exchange from US dollar to Japanese Yen for their guests.
Electrical Appliances
Japan operates on 100-110 volts for electrical appliances. The frequency is 60 cycles (Hz) in western Japan including Kobe and 50 cycles (Hz) in eastern Japan including Tokyo.
Shopping
Saturdays and Sundays are major shopping days in Japan. All department stores and other shops are usually open until approximately 8:00 p.m.
Travel Information Desk
A travel Information Desk will set up in the registration area for those from overseas during the period.